Kohlplatzhof
The Spiegelhalter Farm Near Neukirck in the Black Forest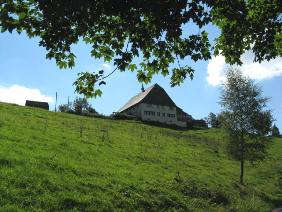 Position: On the upper Kohlplatz (Charcoal burning place) divided from Sengen Farm
Farm Size: At 1820 approx 63 Juchert, 1849 supposedly 31 Juchert, 1967 54.68 hecktor (1 hecktor is approx 2.5 acres, so 136 acres)
It was added to the Kohlplatz
1899 the lower or back Kohlplatz with 6,12 hecktor
The lower Steinberg (Stonehill)
Field from Kajetanshof
1930 a piece of land in the Leiterloch with 2,27 hecktor
Farm Name: After an old Charcoal Burning Place
Buildings: Original building was probably built before 1746. Today's building was built after a fire on 5 June 1835.
Severin Spiegelhalter
Marries 31/7/1780 'auf der Fern' (name of house) or Fernhause Maria Dilgerin from the Fern Farm.
After the wedding 21/6/1780 the couple move into the tradehouse which was given to them by the bride's father. Should the father acquire the permission to build another tradehouse on the Farm, then the couple will have the choice to move into that. The groom had 250 fl.rhein, earned wealth. She had 125 fl. Savings and 41 fl. Dowry, together 166 fl.
Children:
George second farmer
Simon Clockmaker on the lower Kohlplatz with approx 11 juchert field and woodland
Helena
Anna
Josef
2nd marriage 16/6/1794 to Margarita Pfaff, widow from Waldau (name of village) Alioshausle (name of house)
George Spiegelhalter
He bought on the 10/7/1816 from the Farmer of the Unterheubachhof Farm 11.2 juchert grassland and 6.2 juchert woodland for 500 fl.
On the 5/6/1835 the house burnt down.
In 1847 George Spiegelhalter bought 3,3 morgen (= between 0,6 to 0,9 acres for one morgen) meadows and 2,3 morgen grassland in Leiterloch for 1200 fl from Fidel Auber.
Georg Spiegelhalter 1849 to 1870
Took over in 1849 the Kohlplatz Farm with supposed 31 morgen field and woodland for 8000 fl.
Clockmaker, 1864 in London.
He bought a well in the Steinberger Wood from the married couple Lorenz Schwab, Kajetanshof Farm.
In 1876 the Widow Maria Spiegelhalter acquired from the Count Castex, the owner of the Kajetans and Konigenhofes Farms, the so called Kohlplatz Wood with approx. 10 morgen for 4285 fl.
Ludwig Spiegelhalter
He took over the Farm in 1886 for 8576 Ft.
He bought the lower Kohlplatz with one house and 6,12 hecktor field and woodland from the postman Wolfgang Kimmig.
He married 29/9/1880 Albertine Hog who died 27/9/1894 2nd marriage 10/7/1898 to Emma Kern.
She was widowed and became the sole owner of the Farm in 1902. She married Max Fehrenbach, a farmer from the Moosfarm.
In 1906 the couple bought the so-called Saw Mill of the Miller and Baker, German Schatzle, and bought in 1907 the Estate, 'am untern Steinberg' with a house and 9,91 hector field and woodland from the roofer Engelbert Kern.
Karl died in 1947 in a Russian prisoner of war camp. He was a Baker, Miller and Saw Miller and his parents had given him the 4 hector sized sawmill in 1930.
He married in 1929 to Maria Klara Dorer von Gutenbach, Oberleimgrubenhof
In 1927 Max Fehrenbach handed the Kohlplatz Farm over to the son of Ludwig Spiegelhalter and moved to Langenordnach in the same year where they had bought the Binsenhof Farm.
Ludwig Spiegelhalter
Acquired from his parents 2.27 hecktors of land in Leiterloch.