Puppies
July 2017
On 15 July 2017, exactly on the due date, Daisy gave birth to 2 girl puppies and 5 boy puppies litter sired by Coco (Leighsham Little Beeper). All the puppies are doing well and have homes lined up.
Enquiries
If you would like to be considered for a puppy from a future litter, please contact us by email yorkbeachgoldens@gmail.com.
We can provide a questionnaire for you to complete and would need the following details:
The number of adults and the ages of any children in the home.
The working arrangements, if any, of the adults in the home.
Why you are looking for a puppy from this particular litter.
The name of the town or village where you live.
Your previous experience, if any, of owning a dog.
Any special activities (e.g. showing, working, obedience, agility, breeding, Pets as Therapy) that you hope to undertake.
Your landline telephone number.
Useful documents
Please note that the puppy sales contract refers to the Kennel Club Assured Breeder Scheme. We have joined the scheme (Assured Breeder number 3376328).
Easter 2016 Videos and Photos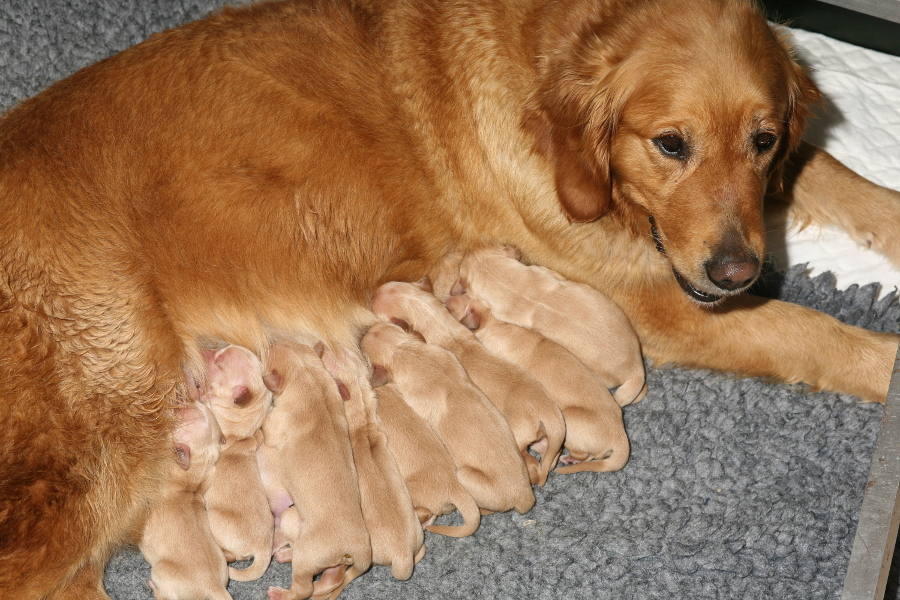 Previous litters
Daisy's second litter More litters…
Is a golden retriever puppy for you?
If you are in any doubt about whether a golden retriever puppy will fit in with your lifestyle and whether you are likely to meet our strict criteria for owning a puppy, you may find some of these links helpful:
Litters from puppies that have left
Leaving
All puppies upon leaving will get:
Kennel Club registration certificate.
Offer of 4 weeks free insurance.
5 Generation Pedigree sheet.
Supply of puppy food.
Guidance on feeding, training and care.
Telephone support.
Veterinary check.
Microchip