Elsa 2013 | Puppies
Elsa gave birth to 10 puppies, 6 females and 4 males, on 8 June 2013. All the puppies have now left for their new homes, first being ready to go on Saturday 3 August 2013.
Photos and a video of the puppies can be viewed below, more photos can be found in the photo albums.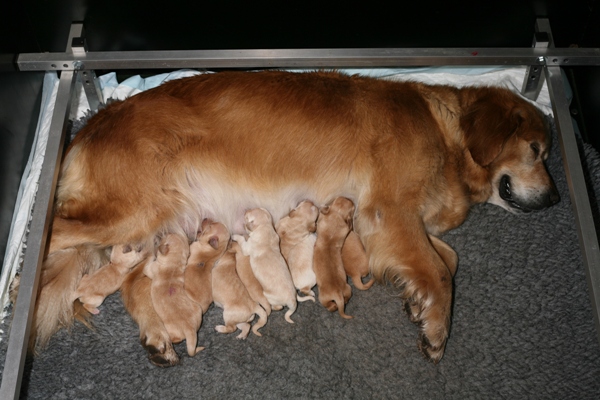 Three of Elsa's puppies from previous litters have qualified as Assistance Dogs with Dogs for the Disabled and a fourth from this litter is doing well in training.
Sire
George was selected as the puppies' sire because he has a wonderful temperament, a lovely golden coat, proven working ability (Working Certificate on game as well as Show Gundog Working Certificate) and he is very good example of the breed (Junior Warrant). He has passed all the possible health checks, with a hip score of 7-7, an elbow score of 0 and a clear eye certificate. He is also genetically clear of the two eye conditions for which there is a DNA test, PRA1 and PRA2.
Pedigree
Other Litters