Dogs: Daisy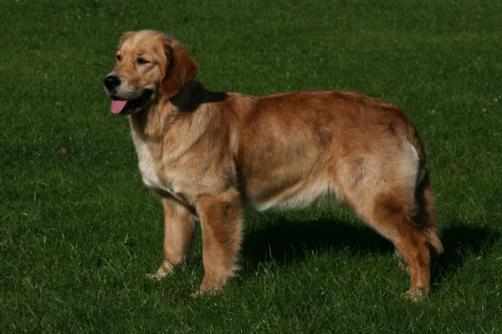 Yorkbeach Golden Daydream, born 7th August 2011. Hips are 4-4, elbows E1 and a clear eye certificate (06/01/2016). Parents are Sh Ch Shardanell All That Jazz and Martinian Golden Sunflower at Yorkbeach.
Daisy has a lovely temperament, having her dam's brains and her sire's calmness. After taking a 10-week puppy course in mid-2012 she passed the Bronze and Silver awards in the Kennel Club Good Citizen Scheme in November 2012. She achieved the Gold award in June 2013.
Daisy loves eating, digging, chewing, cuddles, licking and playing with Elsa and she is friends with everyone.
Puppies
Daisy gave birth to her second litter of puppies on 25 March 2016, see here for information.
Daisy had her first litter of puppies in December 2013, see here for information.
See this page to learn about her brothers and sisters.
Pedigree