Frederick Albert Winter 1907-1971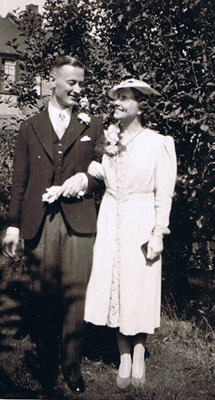 Fred was the eldest surving son of Remigius and Emily Winterhalder. He grew up in Islington, London. Fred had a younger brother George, seen sitting on the horse tricycle in the picture from August 1914.
Fred married Sylvia Margaret Lee in 1938. Much to Sylvia's dismay, Fred had changed his name from Winterhalder to Winter shortly before the marriage. Fred and Sylvia lived most of their married life in Matlock Way, New Malden Surrey. Fred served in the Bristh army during world war II, which took him away from the family home. For a brief period Sylvia evacuated to Sussex.
Fred worked as a stockbrokers' clerk and occasionaly helped out at the Spiegelhalter shop in Mile End Road during busy periods, such as the run up to Christmas. Indeed Fred was very much part of the Spiegelhalter family, attending the wedding of his uncle George Salter at the tender age of 14. Fred and Sylvia had a happy marriage with 4 children. He died in 1971 and she in 1996.
Fred was a religious man and his faith was important to him.
Fred's eldest daughter Pat was a nun in the Ursuline order. She served at a number of convents, lastly Wimbledon, before the nuns went out into the community. Eventually ill health forced Pat to retire from the order and she died in 2003.
This picture here shows Pat with one of her nephews in 1967.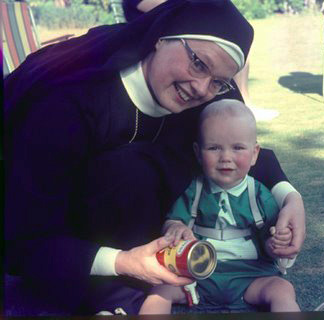 Fred's other 3 children are all well, two living in Surrey and one in Auckland. Fred and Sylvia have 2 grandchildern and 3 great grandchildren all living in New Zealand.
Fred was a bit of an artist and used his skills to send greetings to his daughters while he was serving in the British army.