Francis William Spiegelhalter 1889-1955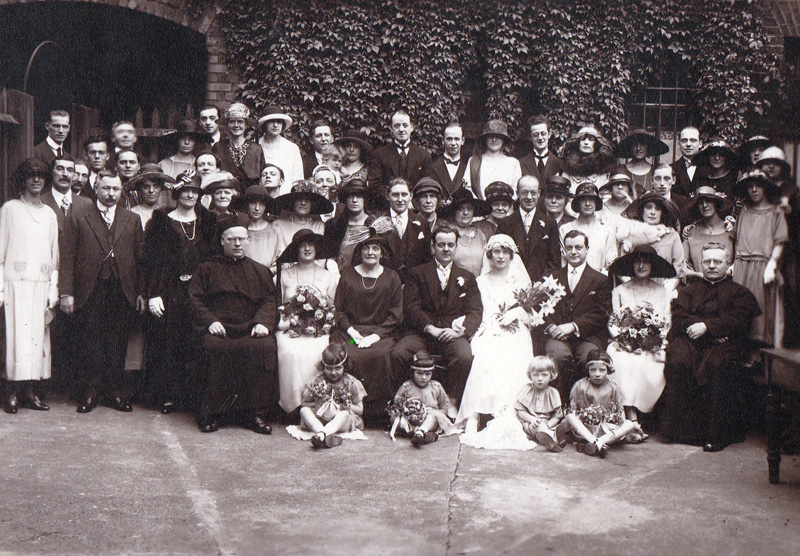 Francis William Spiegelhalter, known as Frank from an early age, was born in January, February or March 1889. He learnt his trade in the family jewelry business, working as a watch repairer at the time of the 1911 census.
Frank served in the British Army during World War I, in King George V's 30th Middldesex regiment (see photo below). He continued in the army after the armistice, which probably explains why he was not around to change his surname to Salter when most of his siblings did. Frank was still Spiegelhalter when he was a witness at George's wedding but changed it not long after that.
Frank was a popular, jovial man with a witty sense of humor. In the summer of 1924 he married Hilda Margaret Riedling, who was born on 17 September 1901 to Franz Riedling, a butcher, and his wife Margaret. Frank and Margaret had one child, a son, Raymond (often called Ray). Frank was on very good terms with his nephew Fred Winter, seen with Frank and Raymond in the picture below taken in about 1937.
As his elder brothers died or retired Frank took increasing responsiblity on running the Mile End shop, effectively acting as a partner with George. Their brother Edward (Ted) still lived at the premises when he died in 1947. The shock of finding Edward's body gave Frank diabetes. Frank died on Good Friday, 8 April 1955, Hilda on 24 March 1970. Their son Raymond, with George's son Michael were the last to run the Mile End shop.