Children of Otto Spiegelhalter/Emily Fehrenbach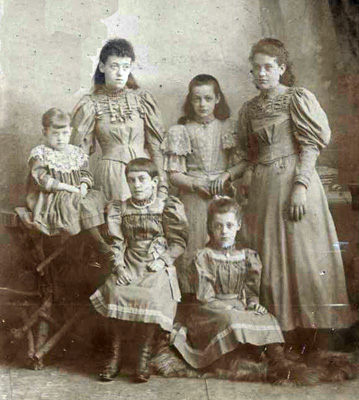 Otto and Emily had 15 children, 12 of whom survived to adulthood, 9 of whom married. 7 of the children (*) changed their surname from Spiegelhalter to Salter in 1919. 1 (**) changed it later.
The picture probably dates from about 1892, in which case the children are most likely as follows: Frank (sitting), Louisa, Joseph (sitting), Edie, Mary (sitting) and Emily.
The first four children were born in Whitechapel, probably at 6 Mount Place. The others were born in Mile End, likely at 81 Mile End Road, except Helena, who was definitely born after the move to 75 Mile End Road.
Otto and Emily do not appear to have employed any servants, so raising 15 children would have been very hard work. The older children would have helped to look after the younger ones. The children were all bilingual.
For much of their time growing up the children lived at 81 Mile End Road. The shop occupied the lower two floors of this four storey building, leaving two floors for living accomodation. The older girls probably had one room, the boys another and the infants a third. Some of the children would have had to share a bed.
Edward Otto Spiegelhalter * born quarter 2 1874 in Whitechapel died 18 December 1947 in Islington district
Edward, often called Ted, was a quiet man who rarely travelled. Despite being the eldest, he did not seem to have a lead role in either family or business matters. He was a jeweller and worked in the shop.
Emil Louis Spiegelhalter * born quarter 2 1875 in Whitechapel died 25 January 1938 in Stepney
Emil was a kind and generous man, giving his god-daughter half a crown each time he saw her at St Boniface church, quite a sum in the 1930s. Emil may have been the one to give away his sisters (other than Emily) at their weddings.
Mary Josephine Spiegelhalter born quarter 1 1877 Whitechapel died quarter 4 1878 Whitechapel
Emilie Spiegelhalter born quarter 3 1878 Whitechapel married 11 February 1902 Mile End died 9 February 1931 in Islington
Her husband was Remigius (Remin) Winter(halder), born 24 September 1866 Urach and died quarter 4 1933 in Islington. He was a jeweller and worked for George Beha in Islington. Emile and Remin had five children, including Fred Winter.
Louisa Clara Spiegelhalter * born quarter 1 1880 Mile End died 5 July 1942 Ditchling, Sussex
Louisa was deaf and dumb. She did domestic work at the shop. Louisa was a witness at Annie's wedding and was one of the 7 to change name to Salter. She lived out her final years in a convent in Sussex.
Leo Spiegelhalter born quarter 3 1881 Mile End married died 18 November 1950 Essex
Leo married first on 19 June 1919 at Mile End, St Boniface, Adelaide Katherine (Ada) Louis, who was born quarter 1 1884 in Bethnal Green, daughter of Nicholas Louis, a baker, and died 7 October 1940 in Holloway.
He married secondly in quarter 2 1945 at Epping Mary Elizabeth (Betty) Engbarth, who was born 1 March 1904 in Southwark and died 16 May 1995 at Waltham Forest.
Leo was quite a character, taking upon himself the lead role in the jewelry business. He was the one behind the decision not to sell the shop premises to Wickhams.
In view of the fact that he married Ada almost the same day in 1919 as the London Gazette announcements, it seems likely that he instigated the name change to Salter.
Leo and Ada had a son Douglas, a gunner in the British Army killed at Dunkirk on 15 June 1940.
The story goes that following this death, and Ada's in the same year, Leo went down to Stepney Green underground station and threw five pound notes around.
Anna Teresa (Annie) Spiegelhalter born Q1 1883 Mile End married 17 April 1911 Mile End died 2 March 1948 Droxford, Hants
Her husband was William La Rooy, a hairdresser born in about 1882 in Holland and died 15 December 1958 in Portsmouth. Annie and William had two children, William and Vera
Mary (Maria) Spiegelhalter born 7 August 1884 Mile End married 6 October 1910 Mile End died 1945 Berlin
Her husband was Martin Peter Pley, an office supplier, born 21 September 1880 Duren, Rhineland and died 1944 Berlin.
When the Third Reich required German residents to have identity cards, Mary commissioned Max Hermeking to produce a family tree showing her ancestors
Ida Agnes (Edie) Spiegelhalter born 27 October 1885 Mile End married December 1917 Mile End died 18 August 1935 in Luitpuld, Krankenhaus, Germany. Her husband was Frederick Schneider (Taylor), a butcher, born 11 January 1886 in Hackney and died 26 April 1956 in London.
Edie and Fred had four children, one of whom has recently celebrated her 90th birthday, but none of their grandchildren have any children.
Joseph Spiegelhalter born quarter 3 1887 Mile End married quarter 2 1939 Stepney died 7 July 1962 Essex South West
His wife was Anna Lena Laub, born 1 January 1898 Pancras and died May 1987 in Redbridge.
Joseph was short and worked not as a jeweller but as a wine merchant. Joseph was quite independent and kept the name Spiegelhalter throughout his life. Joseph and Anna had no children.
Francis William (Frank) Spiegelhalter ** born quarter 1 1889 Mile End married quarter 3 1924 Mile End died 8 April 1955 Essex SW His wife was Hilda Margaret Reidling, born 17 September 1901 West Ham and died 24 March 1970 in Hackney.
Their son Raymond was one of the last to run the family shop.
George Blaise Spiegelhalter * born 19 July 1890 Mile End married 4 September 1921 Mile End died 6 September 1957 Epping
His wife was Lily Anna Leshied born 14 September 1900 Leystonstone and died 5 February 1981 in London.
George and Lilian had four children, the youngest of whom, Michael, was one of the last to run the family shop.
Bertha Elizabeth Spiegelhalter * born 7 January 1892 Mile End married Q2 1931 Medway died 23 November 1973 Redbridge
Her husband was her second cousin, Edward Adrian (Ted) Dold, a watchmaker, who was born quarter 2 1896 in Medway and died 11 December 1954 Epping. Bertha, a dressmaker, was the first to marry other than at St Boniface church. She was the only one of the children to reach age 80.
Charles Bernard Spiegelhalter born quarter 3 1893 Mile End died quarter 4 1894 Mile End
According to Edie, Charles died from scalding in a hot bath.
Helena Spiegelhalter born quarter 3 1895 Mile End died quarter1 1898 Mile End
According to Edie, Helena was a little angel and died from meninigitis.