Otto Spiegelhalter 1845-1902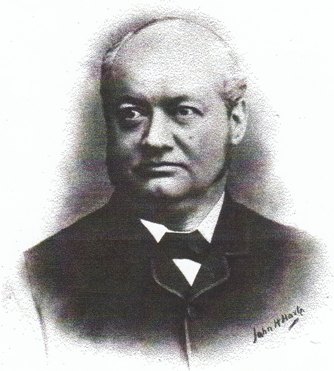 Otto Spiegelhalter was born on 3 December 1845 in Neukirch, the son of Blasius Speigelhalter and Josepha Fehrenbach. He was baptised two days later at the Catholic church in Neukirch. Otto his early life in the Black Forest. At some point before 1871 he came to London. He trained as a watchmaker, a common occupation for men born in the Black Forest.
On 11 August 1873 Otto married Emily Fehrenbach, daughter of Solomon Fehrenbach and Rebecca Wehrle. Fehrenbach was a common name in the region and it may be pure conincidence that Otto's wife and mother were both Fehrenbachs. Indeed the conincidence, if that is what it is, goes back a further generation. Blasius Spiegelhalter's parents were George Spiegelhalter and Johanna Fehrenbach. Shortly after their marriage Otto and Emily left Germany and came to London, England. As Otto's father Blasius had died in 1872, an inheritance from the sale of Blasius' house probably helped finance the wedding or the emigration or both.
Otto joined the Spiegelhalter watchmaker and jewellery shop business that his grandfather George had started in London in 1828. From announcements in the London Gazette we know that prior to 1879 Otto was in partnership with Ludwig Fehrenbach, Albert Spiegelhalter, and Emil Spiegelhalter at 6 Mount Place Whitechapel. From 1879 Otto was in partnership with his cousin Ludwig Fehrenbach at 75 Mile End Road and that following the latter's retirement in 1886 Otto became sole proprietor. In latter years the business was at 81 Mile End Road. Despite extensive research of the Spiegelhalter/Fehrenbach clockmaker dynasty by David and Hilda Bibby, we do not know whether the premises moved from 75 Mile End Road to 81 Mile End Road or whether the post office simply renumbered the property.
Otto and Emily had 15 children, 8 sons and 7 daughters. 6 of these children have descendants alive today, the 6 being Emily, Annie, Mary, Edie, Frank and George. Otto died on 19 April 1902, shortly after the marriage of his daughter Emily. Otto's wife Emily outlived him by 13 years, dying on 19 May 1915. As at May 2009, Otto's descendants include 18 grandchildren, 36 great grandchildren, 28 great great grandchildren and 5 great great great grandchildren.